REVIEWS ABOUT THE PROGRAME
1. MRS.JYOTHI HATTANGADY
H.O.D BHAGWAN MAHAVEER JAIN HOSPITAL, BANGALORE.
I congratulate Mr. Pearlson K for conducting a course on Manual therapy so efficiently. His in- depth knowledge of anatomy, biomechanics and kinematics is evident by the ease with which he delivers the lecturers and demonstrates the techniques. The basic principles are put forth clearly using audio-visual aids making it very simple for everyone to grasp the subject. The 'hands on' approach, his close supervision and his eye for perfection develop one's skills of palpation and mobilization very well. The course being spread out over 7 Sundays gives one ample time and opportunities to practice what has been taught. I wish him all the best and may he continue teaching the skill, which is the future of physiotherapy.
2.MR.PERCY LAWRENCE
ASST. H.O.D, HOSMOT HOSPITAL, BANGALORE.
The main aim in this course is to provide the physiotherapist in training or in practice, with up to-date review of anatomical and biomechanical basis of pain, knowledge of the various techniques in manual therapy and their application in different musculoskeletal conditions. Its my hope that both students and qualified physiotherapists will find within these course the information necessary to encourage good practice, provoke thought and stimulate further interest in manual therapy.
3.MR.PREMKUMAR B.N,
SR. LECTURER, KEMPAGOWDA INSTITUTE OF PHYSIOTHERAPY, BANGALORE.
Manual therapy will extend the knowledge of therapist & students of Physiotherapy. Although some may already be familiar with Manual therapy they may be unaware of its many potential applications. This Course gives comprehensive coverage of those dysfunctional situations in which Manual therapy is potentially useful. The course provide both students and practitioners with all the information and background they need to allow them to use Manual therapy techniques safely & effectively
4.MR.SENDHIL KUMAR,
SR. THERAPIST, NIMHANS, BANGALORE.
In physiotherapy along with other techniques, manual therapy forms a major part of the work of the practicing physiotherapist. This course gives me firm belief that excellence in the treatment and management of neuromusculoskeletal dysfunction's can only be obtained as result of the application of a logical, systematic, careful and intellectual examination and assessment strategy. Hope this course will stimulate therapist and student in learning and applying them to practice for better outcome in the modern world.
The Federation of Indian Manual Therapy will issue certificates for the participants titled
"MANUAL THERAPY IN A CLINICAL REASONING PERSEPECTIVE"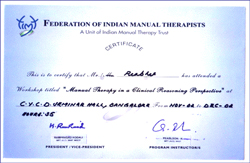 Sample Certificate from FIMT
Should you require any further clarification do call us on 98450-93842 or E-mail us at fimt02@yahoo.co.in
Maximum Intake - 20 Only
From: Sep 7th to Oct 19th
Duration: 7 DAYS - SUNDAYS ONLY (35 hours)
COURSE FEE: Rs.4,500/-
VENUE: CY& CD Seminar Hall, Bangalore. PROGRAM INSTRUCTOR,